Scaleup Spotlight - Sarah Pavlou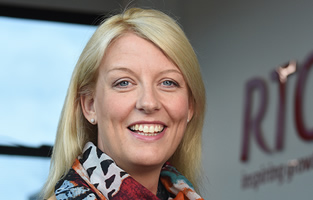 Share on social
1. What is your role within Scaleup North East?
Head of Scale Up North-East
2. Tell me about your career to date.
20 years in retail, specialising in franchising, I have launched and led Tier 1 retailers into global markets, from Debenhams to Disney, Geox to Hamleys, New Look to Quiz. I have worked in an operational, commercial, and strategic capacity to further the growth and success of household names and small medium sized businesses, including running my own Retail Consultancy and leading a global voluntary membership organisation for Women in Business. My greatest passions are People and Entrepreneurship, and my driver is progression; this combination defines my purpose, to see businesses and people thrive.
3. What does your current role involve?
My role involves the leadership of a truly dynamic and driven team of Entrepreneurs/Consultants Project Managers and Project Coordinators who together support the SME market within the North East of England reach their full potential as Businesses and Leaders/Owners; increasing their profitability, driving increased employment and economic growth for our region. It is my responsibility to ensure barriers are removed to support the frontline teams deliver their role to maximum effect. It is my purpose to drive a positive, pro-active and ambitious culture, where individuals play to their strengths, synergy is at its best and we all work together to continuously improve and thrive as people and as a programme.
4. What makes Scaleup North East different?
Scale Up North-East consists of a team of individuals whose business experiences bring to the table the good, the bad and the ugly and as such provide real life strategies for success, based on their own learnings and personal achievements. The quality of advice shared, the market insights, the coaching /alternative perspectives given and the contacts this team bring to the table, never cease to amaze our clients, they really are 'game changers in the world of Business Support' and I am immensely proud to work alongside such a driven and inspirational team of Entrepreneurs/ Executives.
5. My 3 most notable achievements to date would be.
Whilst at RTC I have led 3 teams across 3 programmes, Innovation, Internationalisation and Scaling Up. The 3 most notable achievements to date would be:
Investing in People is my passion and my purpose and despite being entirely new to the world of Business Support some 3 years ago, I am immensely proud of
o The people I have had the opportunity to support, work alongside and drive to the next level. We have 3 high performing teams who excel, meet targets and always give up and above their roles. They continue to work with the drive and determination to be the very best of themselves. This is what sends me home everyday with a smile on my face and a great sense of achievement.
o The positive change brought to our internal processes and subsequent client journey which is a result of many individuals within the teams across RTC embracing change, challenging the status-quo and remaining focused on our clients both externally and internally. (SMEs & Funders)
o Building an engaging Scale Up Community online and offline through our Scale Up Socials pre COVID and online Events post COVID. We have the incredible support of our clients who work endlessly to support us with market insights and research and who continue to be our voice/Ambassadors of the Scale Up North-East programme. Our Advisory Board who meets on a voluntary basis to challenge us to further improve and provide a voice of our market and our Funders and Stakeholders who support and celebrate our success with us, giving us a voice regionally and nationally. We work hard to ensure we are bringing together like-minded business individuals and organisations as together everyone achieves more. (TEAM)
6. Tell us about your day so far
Leading Business Support Programmes means no one day is ever the same. Much of my time is ensuring the engine is oiled, that individuals have the autonomy and the tools to excel and that our customers both externally and internally are receiving the highest quality information in a timely and efficient manner. Today I am working on an internal Audit with our Project team and preparing a strategy for ensuring a healthy and quality 2022 pipeline of Scaling Businesses who are seeking our support with their Scaling Up objectives.
7. What do you enjoy outside of work?
This is always an interesting question for me as much of my life I have been incredibly fortunate that what I do for my work I love and therefore often work can also be what I enjoy out of hours. However, in an attempt to reach a balanced lifestyle and ensure everything in moderation, (as my father would say) I have in the last 3 years committed myself to 3 times a week at a Personal Trainer. This is without doubt the perfect mental and physical solution when hitting your 40s and keeping you level-headed. I also mountain walk with my younger brother who is currently walking the 253 peaks of The English Mountains for charity which I am loving, albeit I only do one day a week for this venture. The countryside is without doubt my little piece of heaven and this combined with annual holidays in my husband's country of Cyprus ensures I get all the necessary weathers and outdoor experiences needed to keep one sane.
8. And finally, leave us with one interesting fact about yourself.
When 23 years old my school friend put me forward for a BBC Prime TV Game Show. We were granted place post auditions at the BBC in London and were flown to Barbados for a week in the show Come Fly with Me. We made it to the final and to my friend's devastation we lost the winning holiday to two young fellows from Scotland… she still remains scarred and I still have the front page of their national newspaper where to my horror I was front page news as I ran through their capital city with a flying fish… don't ask.