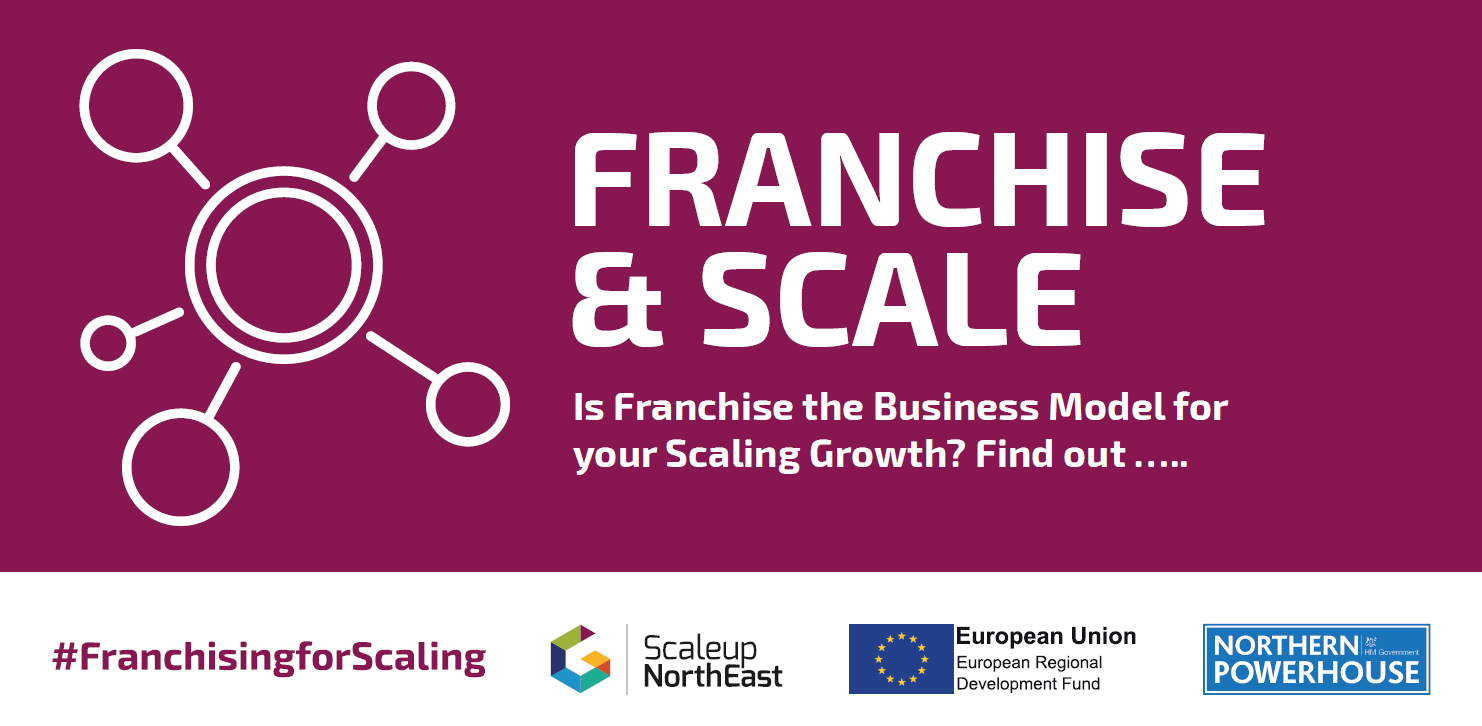 So franchising, that's all about burgers and pizzas, right? In truth, there's scarcely an industry or business sector in the world untouched by franchising. The UK franchise industry generates over £17bn in revenue and employs more than 710,000 people. There are in excess of 48,000 franchised outlets and fewer than 1% of them close each year due to commercial failure. If you are a business owner, then this is a topic you really need to know about.
What can franchising help you achieve? Short answer is growth. Franchising can be a great way to grow your business relatively quickly and without as much capital expenditure as traditional expansion i.e. acquiring new sites and employing your own managers and teams.
Of course, there's much to learn if you want to reap the benefits of franchising your business properly. And it doesn't work for every business – so knowing whether it might work for you or not, is something to explore in detail before you put your hand in your pocket or start making plans. That's what this session is all about...
9am
Welcome & introductions – Sarah to say hello from RCT then Suzie to introduce the franchising event and agenda for the day
9.15am
- Franchising 101 – Platinum Wave Franchising
- The strength of the UK market – Platinum Wave Franchising
- The absolute Do's & Don'ts for franchising your business – Platinum Wave Franchising
- Session Q&A
10.30am
- Coffee & Comfort Break
10.45am
- Franchising and the Law: what you need to know – Harper Macleod Solicitors
- Session Q&A
11.45am
- Franchising and Money: what you need to know – HSBC franchise team
- Session Q&A
12.30pm
- Lunch
1.00pm
- Franchisor Speaker – Sarra Bejaoui, Founder & CEO, Smart PA followed by Q&A
1.45pm
- Franchisor Speaker – Andy Thompson, Chairman, Anytime Fitness UK followed by Q&A
2.30pm
- Coffee & Comfort Break
2.45pm
- Franchisor Speaker – to be confirmed
3.30pm
Questions & Close
Learn from our invited panel of industry experts and successful franchisors.
· Franchising 101 – Platinum Wave Franchising
· The strength of the UK market – Platinum Wave Franchising
· The absolute Do's & Don'ts for franchising your business – Platinum Wave Franchising
· Franchising and the Law: what you need to know – Harper Macleod Solicitors
· Franchising and Money: what you need to know – HSBC franchise team
· Franchise journeys from the people who've done it
David Kaye - Harper MacLeod LLP
Partner, Heading up the Firm's Retail and Franchise Sector. I specialise in Franchising and Business Law and act as Company Secretary to a large number of companies including Retail Trust, Tripsology, Bees Nees Media and am a Governor at Fashion Retail Academy. I am an Ambassador with Aspen People. I am a Qualified Franchise Professional, an affiliate member of the British Franchise Association (BFA) and acts as legal advisor to the BFA Franchise Group in Scotland. I am Honorary Consul to Latvia in Glasgow I am a Director of Glasgow International Jazz Festival, Company Secretary with Scottish Sports Futures and a Mentor and Ambassador with MCR Pathways. I am a Council Member of Glasgow Chamber of Commerce. Prior to joining Harper Macleod I ran my own firm, Clairmonts, for 11 years.
Suzie McCafferty - Platinum Wave
BRINGING FRANCHISING & YOUR BUSINESS TOGETHER. I have a proven track record within business franchising which developed from successfully franchising my own retail business, growing the company to more than 70 franchisees, across six countries within a seven year period, to managing, at executive board level, corporate franchise organisations with network turnovers in excess of £30m. My experience of building, developing and managing successful UK and international franchise operations over the last 19 years has earned me widespread recognition, including a highly acclaimed finalist place in the National Business Entrepreneur of the Year Awards in 2006 and 2011.
I am currently the Chairperson for the British Franchise Association's Scottish Forum. My company are proud sponsors of the British Franchise Association's (bfa) Scottish Franchise Week & Northern Franchise Breakfast and I am a judge at this year's franchisee of the year awards. I am an affiliate member of the bfa and an active member of the UK & international franchise communities. I am a business mentor for the Chamber of Commerce and business growth coach for the Growth Accelerator Programme. Previous positions include chairperson of the Scottish Franchise Forum, part of the British Franchise Association (bfa) in 2009 and 2010, committee member of the bfa's sales & marketing committee. With a comprehensive professional background and an impressive client base, Platinum Wave Ltd is a franchise and business growth specialist which assists and advises businesses across a broad industry spectrum from SMEs to large corporations. Specialties: UK and International Franchising, new franchise start ups, business support and development of existing franchise networks, franchise strategy formulation & implementation, business performance and profitability initiatives, franchisee recruitment, international franchising, master franchising, area developer licensing, interim management
Ken Braddock – Franchise Director HSBC
Ken Braddock is the Franchise Director of HSBC Bank. His primary focus is to provide franchisees, franchisors and industry specialists with the support they need to grow their businesses while developing the HSBC brand in the franchise community. Since 1984, Ken has worked in various roles with HSBC, including the commercial banking team, managerial positions in Marketing, Credit and Risk and as a Regional Sales Manager. He has been in his current role for 10 years and manages the bank/franchise relationship with the UK's leading franchisors.
Sarra Bejaoui - SmartPA
Sarra Bejaoui is the Founder and Chief Experience Officer at SmartPA, the leading experts on outsourcing PAs, business support and administration services.
Her mission since setting up the company in 2008 has been to offer clients the most efficient, cost-effective ways to handle their business tasks and admin support. Her purpose is to disrupt the industry and create a new norm of women in leadership, with six female heads of departments in the business.
While developing the company into a global player, it has remained a people-centric organisation, pushing to eradicate the phrase "just a PA" and showcase how valuable assistant and administrative services are to business growth and success.
Sarra was recently named as Business Woman of the Year by BWS and is a finalist in EY's UK Entrepreneur of the Year for 2020.
Andy Thompson - Anytime Fitness
Andy has held a wide range of roles in his 30 + years of working in both a corporate environment and as a co-founder of a number of start-ups. His early career utilised his academic education in geographic data and IT, working for GIS software companies, building data analysis systems.
Merging consumer behavioural data with geographic and demographic information, he created predictive models for clients in retail, leisure and financial services. In 1999 Andy started GeoBusiness Solutions with two colleagues, providing these analytical services to UK and international clients.
The business was acquired in 2005 by MapInfo Corporation. In 2010, with other investors, Andy purchased the UK & Ireland master franchise licence for Anytime Fitness, a global fitness franchise. Under his leadership as Chairman, Anytime Fitness has grown to 172 franchised clubs and #2 in the UK fitness market.
RTC North is delivering Scaleup North East in conjunction with the North East Local Enterprise Partnership (LEP). The programme is part-funded by the European Regional Development Fund (ERDF).It is aimed at supporting North East-based businesses that can demonstrate both the hunger and the potential to achieve high levels of growth. www.scaleupnortheast.co.uk
Overview
Date:
December 08th 2020
Time:
09:00 - 16:00
Cost:
Free
Event Category:
Insight Workshop
Organiser Website:
Visit website